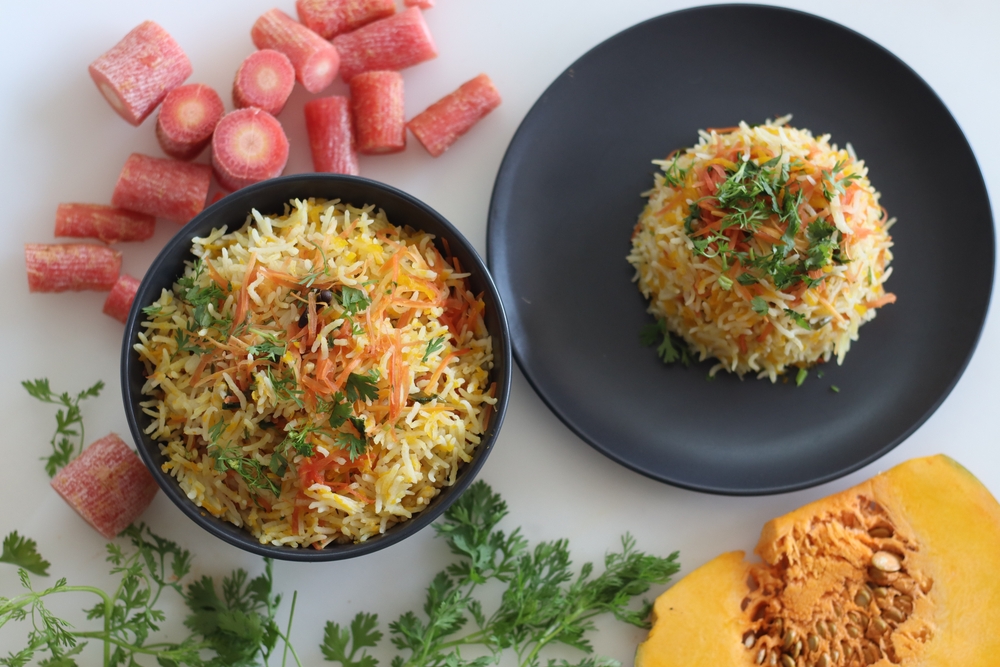 Rice with carrots is a straightforward South Indian dish. A wholesome breakfast recipe or a kid-friendly lunchbox might be included. It tastes lightly spiced and has a touch of carrot sweetness. It goes nicely with raita or any dal dish.
There are many different recipes available for rice dishes. So does this carrot rice. You can prepare this dish by combining all the ingredients in a pan or an Instant Pot.
Health Benefits of Carrot for Children
Carrots have numerous health advantages in addition to their well-known eye-health benefits. Usually orange, but carrots can also be found in purple, red, yellow, white, and even black color. Carrots are a good source of fiber, antioxidants, vitamins, and minerals. You can cook, boil, steam, or consume them raw.
Benefits of carrots include
1. Improves eye vision
2. Helps with detox
3. Healthier teeth
4. Improves gut health
Ingredients –
1. Cooked basmati rice – 1 cup
2. Grated carrot – 1
3. Cumin seeds – ½ tsp
4. Mustard seeds – ½ tsp
5. Curry leaves
6. Cashews
7. Diced onion – ½
8. Ghee/Oil of your choice – 2 tsp
9. Green chili – 1
10. Salt to taste
11. Turmeric powder
12. Coriander leaves
Carrot Rice Recipe –
A pan should have a teaspoon of your preferred oil or ghee in it.
Include curry leaves, cumin seeds, and mustard seeds.
Add the cashews, whole or in bits, and cook until golden.
Once, the cashews turn golden brown, add the chopped onions with green chili to the pan.
Now it's time to add the grated carrot and sauté for a minute, or until the carrots change color.
Season with turmeric powder and salt when the carrots are cooked.
Mix the cooked basmati rice carefully without breaking the rice grains. Cook for a couple of minutes. Voila, carrot rice is ready.
Garnish this colorful yet healthy carrot rice with coriander leaves and serve with a dal of your choice or raita and papad.
Bon Appetite!
Happy Parenting!
To check out amazing products of SapienKid, Visit our product page CLICK HERE!
Also, join us in experiencing a new-age parenting, CLICK HERE!